Is Affiliate Marketing Worth The Effort?  I Think So.
Let's restate the question again, "Is affiliate marketing worth the effort?"
This is a question that too few people ask themselves, "Is affiliate marketing worth the effort?".
Anyone can make money with affiliate marketing.  But, "Is affiliate marketing worth the effort?"
It's not easy if you try it alone.
While affiliate marketing does take a lot of effort, the basic skills required are really simple to catch on to, and by learning them, you could start earning real money in a fairly short period of time.
The trick is to find a product niche you're passionate about.  You can earn good money by simply expressing your genuine love for the product or products, and feel good knowing you're sharing your experience with others who may love the product as well.
However, affiliate marketing is not worth the effort for everyone.
In fact, I'd say that affiliate marketing is not worth the effort for someone who is not willing to put in the time, and efforts it take to start, and grow.
To continue, affiliate marketing entails dedication, commitment, time, and a willingness to hang-in-there until you see some results.
The Efforts Involved With An Affiliate Marketing Business
The efforts involved with affiliate marketing are actually quite simple, and they don't need to take up your entire day. Many affiliate marketers operate their business in a way that is comfortable to them, and their schedule.
First, and foremost, you'll want to find a product category or niche you believe in, and focus on that niche.  It can be a product, a service or promoting a business opportunity.
A word of caution…if your new to affiliate marketing, you don't want to spread your marketing out too much, or too many products.  By focusing on one specific product category, you'll be able to pinpoint your target market, and establish yourself as a trusted source on a particular product or subject.
The same is true for your marketing strategy.  Pick a specific strategy, and stay with it until you see success.  However, if your strategy is not working (and you'll know when) change to a new marketing outlet.
Let's say you start with Instagram as your marketing strategy.  Several months, 6 months, 9 months, and you see zero success, it's okay to change your marketing.
Now you try Facebook.  Don't give up on Instagram just yet, you have already started that marketing, however spend quality time on Facebook as your new marketing strategy.
If you spread yourself out too much, you're going to need a lot more effort a lot more time, and a lot more dedication to attract your audiences.
Too many products, and you won't be able to make a recommendation.  Likewise, too many strategies, and you won't be good on any of them.
Allow yourself to become an authority on a product, service, and a marketing strategy.
Start Taking The Affiliate Marketer Training Course For FREE Here!
Next, you'll want to target that audience, and figure out what type of information they are searching for in the search engines.
In order to attract the audiences most likely to be interested in your product or services or business opportunity, and buy what you're marketing, you'll want to entice them to know more, and what interest them, and figure out what type of content is best for doing just that.
The single best method of attracting highly targeted, and ready-to-buy visitors to your website is to keep them updated on your product, services or business opportunity.
Give them a reason to come back to read more but most importantly, why they should buy from you!
Become a trusted advisor.
The world wide web is a fast moving mechanism, with it's own trends, and it's own life, and this is another thing to keep in mind in terms of affiliate marketing.  Stay current with all that is happening with changes.
The area that really breathes life into the "Is affiliate marketing worth the effort?" question is trial, and error.
Successful affiliate marketing will take quite a bit of trial, and error.
Mistakes are common.  Wrong decisions are common, and frustration is common.
You shouldn't expect to build your website one day, and be flooded with sales commissions the next.
This is where many people give up on affiliate marketing, and get the wrong impression that just because success isn't instant, it must not be for them.
You're not going to hit every mark from the beginning.  You also need to keep look at your marketing statistics to see what's working, and what's not in terms of attracting audiences, and turning their visits into new sales.
Another effort you'll regularly undertake is promotion.
You'll want to promote the website or blog you're hosting regularly in order to keep your audiences interested, and wanting to come back.
Using social media platforms, leave your link to interested audiences along with valuable information, and entice them to visit you over, and over again.
Here's Where You Will Be Spending Most Of Your Time
I chose to do my marketing using a Blog, as my media, and Facebook as my marketing strategy.  If you choose a Blog as your method of marketing, that is were you will be spending most of your time.
If you follow the proven methods I've used to build my affiliate marketing business, you'll spend the vast majority of your time WRITING.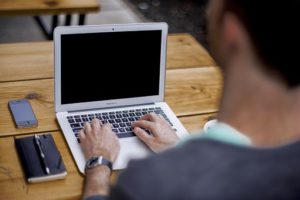 My business is all about creating content, content, and more content on my blog.
Are there other ways of succeeding at affiliate marketing? Of Course, but I find that content marketing (Blog) is by far the single most profitable method of affiliate marketing for me.
You may choose another method, and that's just fine.
Most new affiliate marketers kinda struggle creating content…. at first.  But 6 to 9 months for many have sort of mastered the art of writing.
However, I do get a lot of question on "What do I write about?" 
Write about your product…write about you experience with the product…write about how the product has helped you…write about you, your experiences…write about your favorite book, movie or anything of interest…write about someone you know who may have changed your life…write about anything…just write.
You will soon discover that as you are writing you will come up with something else or idea.
As an example, while I was writing about niche marketing, my thoughts began to ramble.  Soon, I was thinking of "Way's to market,"  "What is niche marketing,"  "What is a good niche,"  "What is marketing?"
So while I was writing one subject, I came up with 12 different ideas to write about.  I put these ideas on a note pad to look at later.
Is writing for everyone?  NO! That's why I said to find a marketing strategy that works for you.
The reason why most people don't like to use content marketing as their strategy, is simply many don't like to write.  And again, that's Okay!
Once writing becomes a job instead of a hobby, motivation begins to fad, and they simply stop!
As an affiliate marketer using content marketing (Blog), you'll essentially become a full time content creator, and most of that will be in the written form.
The question now is:  "Can you handle writing 1,000 word articles every day? Or every other day?  Or on a weekly basis?"
Your answer will determine your marketing strategy.
Breaking Down The Question Of: "Is Affiliate Marketing Worth The Effort?"
To break down the question "Is affiliate marketing worth the effort?" take a look at the efforts, and determine for yourself.
In order to be successful in affiliate marketing you'll need to choose a product category to focus on, learn about your target audience, build a website or blog, build trust with your audiences, create LOTS of content, what is your audience looking for, how can you solve their problems or issues, promote your content and your product, and with the right trial and error, you could be well on your way to receiving those commission checks from your niche company.
In terms of regular maintenance you will need to keep up with the latest online marketing trends, promote your content regularly, and continue learning about how your product category of choice is developing in today's modern age in order to remain a trusted resource on your chosen topic.
Success In Affiliate Marketing
For those willing to put in the effort, affiliate marketing can be a profitable business in many ways. A few of the many benefits of affiliate marketing success are:
A job you can love – Extending your passion, and love for products feels less like a job, and more like a hobby.
Be your own boss – In affiliate marketing, the job is between you, and the niche, and you are your own boss determining the types of products you're marketing, how you're marketing them, and what type of promotion strategies give you the best chance of sales.
Work on your schedule – Rather than adhering to a schedule that doesn't work for you, you get to decide when, and where your promotions are posted.
Work while you travel  – You can promote, and make money while on vacation, or write your latest informative blog post late at night when you can't sleep. You're in charge of your schedule.
Tax advantages – When you have a business, you are opened to many tax advantages.  Check with your tax advisor on the advantages.
The freedom of having your own business, and having success in affiliate marketing alone is worth the effort for many. With the right knowledge, flexibility, attitude and willingness to learn, affiliate marketing can have you on your way to success as your own boss as early as Today.